Well, match yourself up to a letter.
There you go, you may now write about that letter and all it represents. But ONLY that letter because, naturally, you couldn't possibly understand anything beyond your own sexuality!
If that sounds ridiculous, you'll likely appreciate the rest of the post.
If it sounds perfect to you? Well, then write in your box. You have every right to do so.
But you don't get to drag anyone else into the box with you.
Romance is beautiful. Writers of romance should understand the very basics. There must be love. There must be a Happily Ever After or at least a Happily For Now. There must be a story.
That's it. Those are the only true requirements for writing romance.
You can argue that if you're writing about certain professions, or lifestyles, you should do enough research and speak to enough people involved to show respect to your subject matter. This gives a better story, and I know I lose interest in a book when the author is clearly using a trend because it's popular, but didn't bother trying to understand it.
But that's a completely different argument. You can be a straight, older woman, who's never had much of a sex life and write a damn sexy BDSM romance between two gay men.
Or you could be a 'Dom' that's been in the leather scene his entire life and write a really crappy story.
I know some people are grumbling at me now. Here's some sweet lady kisses to calm you down. <eg>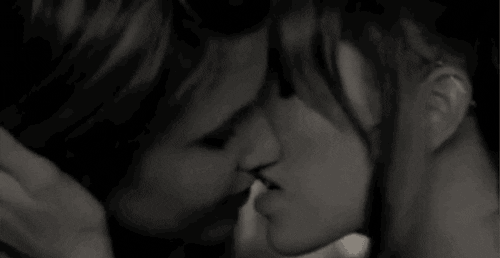 Anyway, the point is, there's so much more to writing a story than first hand experience. Some of the best NONFICTION books out there are written by people who interviewed those who were around an event, who met a legend, but the author is coming at the story from fresh angle. Starting with a blank page.
Does this mean you can't write a story about things that happened to you? Of course not! I am very good at writing shower and car sex for a reason. ;)
But to dismiss a good portion of the writing community because they couldn't possibly understand what it's like to be a gay man, or trangender, or bisexual...
It's ridiculous. We need all the voices. We need the stories, all sorts, from the sad to the erotic. From the funny ones to the action and suspense and the 'Somewhere in a galaxy far far away'.
As a bisexual woman, I should of course avoid perpetuating the stereotype of polyamory, only...I'm not monogamous. So what am I supposed to be writing then?
Whatever I damn well please. I will write menage. I will write about any characters my muse gives me, falling in love in whatever way works for them.
I get angry when I see gay men told to write tougher guys. Or more feminine ones. I hate hearing straight women informed they can't write bisexuals if they have no interest in the same sex. An author who's only into vanilla sex should of course avoid BDSM like the plague.
Write the best, most emotional, most heart-wrenching or passionate or comical story you can write.
The author is not the characters. The author is simply the artist who uses words to paint the men and women who whisper to their imagination into the story.
The story has no boundaries and the labels belong on the bookshelves. On the covers.
Not as red tape that limits the art.
If you're into any kind of restraints, make them the sexy kind. ;)